Roy's RV Supercenter and Powersports In Elkins, WV
One of WV's Largest & Longest Running RV Dealer near Fairmont, Weston, Clarksburg and Morgantown
Roy's RV Supercenter is one of West Virginia's largest RV dealership – and also the longest continuously operating camper dealer in the entire region, operated by the Roy family in Randolph County, WV for over 50 years. We proudly and wholeheartedly embrace the West Virginia Mountaineer Spirit. Roy's RV Supercenter and Powersports has always been, and will always be, LOCAL because West Virginia lives in our hearts and souls.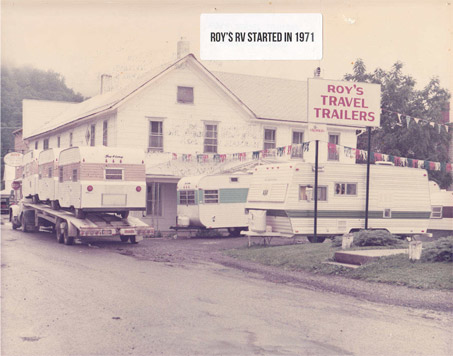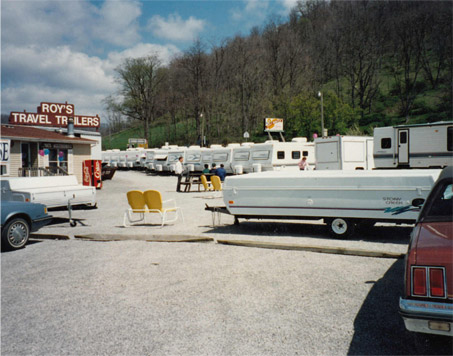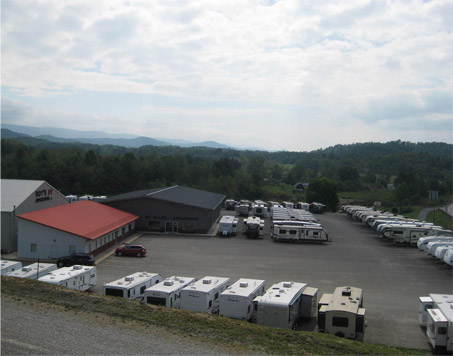 Factory Authorized Jayco, Mossy Oak & Grand Design RV Dealer
Roy's RV Supercenter is one of the largest factory-authorized Jayco brand dealer in West Virginia – America's #1 RV and travel trailer manufacturer for over 15 years. Roys RV is also one of the sole distributors of fine Grand Design RVs in the region.
Enjoy Our Zero Pressure Shopping Experience
We understand how exciting shopping for a new RV is – and it is important to make sure you are making the best choice for your family's needs. Unfortunately, this can be impossible when you are limited to only viewing a few models! When you visit Roy's RV Supercenter, you will discover an entirely unique, truly zero-pressure shopping experience. There are no sales pitches or speeches for you to suffer through, no sneaky hidden fees, no false advertisements — and no gimmicks. We are not here to waste your time. We are here to offer you an unbeatable deal for your home on wheels so you can get out there and enjoy yourself!
Great Selection & Best Prices
We have hundreds of travel trailers, RVs, motor homes, fifth wheels, toy haulers, and pop-up campers in-stock outside throughout our 11-acre RV Paradise, as well as inside our interior showroom. We have more brands, floorplans, and in-stock models than most others in the state and one of the largest combined new and used inventory from the most reputable brands in the world. Rest assured that you have the best selection from which to choose when you come to Roy's. Because you are guaranteed to receive the lowest price on your new RV or a great deal on a pre-owned RV through our First-time Buyer Program, you are free to focus on the features, openly discuss what you love or hate about the models with your family, and truly select the best option so that you will not feel any remorse. You are free to shop your own way.
Shop Your Way
If you prefer a personal escort through the lot, we are always happy to assist you, explain features, provide pricing information, help you find what you're looking for, and provide any other assistance you may want or shop at your own pace. Our staff do not talk AT you, we listen TO you, learn what you need and want, and offer input based on years of experience for you to consider. We believe that this is what makes a truly wonderful purchasing experience and we invite you to enjoy shopping for your new home on wheels at our RV Paradise.
One of the Largest Maintenance & Repair
Facility and Mobile RV Service in WV
Roy's RV Supercenter and Powersports has one of the largest service center designed to best serve all of our customers' needs. Our 10,000+ square foot facility is fully staffed with manufacturer certified technicians who actually complete over 99% of repairs on-site, making it the destination of choice for RV owners who need everything from standard maintenance and repairs to major renovation, customization packages, remote satellite internet, phone, and cable, luxury mattress upgrades, and truly anything you may need to enjoy life no matter where it takes you. We also offer mobile maintenance and repair service within the region. Unbeatable service after the sale is our commitment to you. At Roy's, our customers ALWAYS come first.
Generations of Dedication to the Freedom & Spirit of the RV Lifestyle
As a multi-generational West Virginia family, we cherish our local area, as well as our families, friends, neighbors – and you, our customer. As we will strive to make life better for our local communities by serving as a driving force of the economy and dedicated provider of the finest quality recreational vehicles at the guaranteed lowest price, we invite you to experience the magnificence that is West Virginia.
When you visit us, whether you are a local resident or have traveled from afar, we invite you to take a step back, set aside your business for a few minutes, look to the mountains, and just appreciate the glory of it all. THAT is the reason we are in this business -and why we are so intent on providing programs such as our low-price guarantee and the Roy's RV Supercenter First-time RV Buyer Program which enables young families, new retirees, and other first-time buyers to get into an affordable, quality, entry-level, pre-owned RV right away!
We want you to feel the spirit of the mountains, of nature – of life! We strongly believe that the best way to achieve a life well-lived is to get right out there and enjoy it. Cheers!
It truly means a lot to us all to provide you with the freedom and security to live your dream. We are truly honored that you have chosen us to provide all of your RV needs.
Thank you for choosing Roy's RV Supercenter.