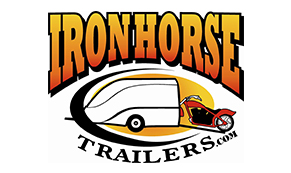 Iron Horse Trailer Dealer in WV
Motorcycle Toy Haulers — Roy's RV Supercenter
Haul Your Bike – Trike – Motorcycle
Seasoned bikers know that Iron Horse Trailers is the only brand dedicated to serving the needs of motorcycle owners who trailer their bikes. Iron Horse Trailers are the easiest to use trailers available on the market today! Their attractive low-profile design is ultra-safe and the unique flip-top makes loading and unloading simple. No assembly is required and there are no gimmicks involved. It really couldn't be easier to transport your motorcycle.

Iron Horse Trailers offer everything you need to get your bike from Point A to Point B safe and secure:
Flip-Top Motorcycle Trailer – EZ-Load
Shrink-Wrapped Electrical Connections Help Prevent Wire Corrosion
Proprietary System Holds Bike Upright
Transport One Bike/Trike or Multiple Bikes
Retains Value for Over a Decade
Find Your Iron Horse Trailer – Haul a Trike or Multiple Motorcycles
Find the perfect Iron Horse Trailer to get you on the road with your bikes, trikes, and all your motorcycle gear in tow! Contact Roy's RV Supercenter and let us know how we can assist you: 304-636-1690. When you order from Roy's, you always get the best service after the sale!
WideBody Trailer –
(14′ 4" Long & 8′ 2" Wide Interior*) Haul two bigger bikes or one trike; Car-towable**!
The LongBody –
(19′ 4" Long & 8′ 2" Wide Interior*) Haul two or three large bikes, one trike + one bike, two Spyders, Slingshots, Hot Rods, Race Cars, etc.
*See full specifications here.
**Most cars can tow these trailers. See specifications for details.